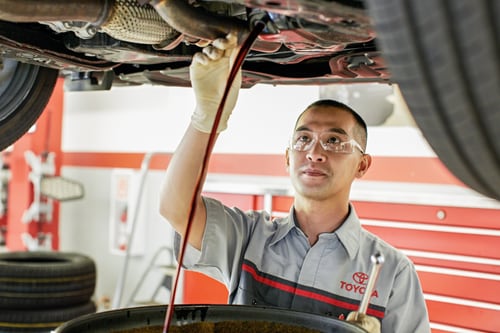 Spending a lot of extra time in your vehicle lately? Taking summer vacations? Traveling on fun weekend getaways? Maybe you're just running lots of errands during your long summer days? Lots of time in your car can be rough when your vehicle isn't up to the extra summer demands. That's why we stress summer Toyota service at Heritage Toyota Owings Mills.
Why Do Vehicles Need Maintenance?
Even if you drive one of our quality new Toyota vehicles, it still needs maintenance to stay running good-as-new. Vehicles go through a lot every time you take them out on the road and maintenance can help protect them. For starters, your engine uses engine oil to keep the parts under your hood lubricated to avoid excessive heat and friction. You have to routinely change your oil to keep it full and working efficiently.
What Does Summer Service Entail?
Summer service is not unlike regular maintenance visits, although it should also include asummer auto inspection, We want to ensure that your most crucial summer parts, especially your air conditioning system, is up to the challenge of keeping you cool throughout the hottest months. We also want to check your coolant to make sure your car stays cool too.
Why Visit Our Toyota Service Center?
The service professionals at our Toyota service center are just who you need to trust with your Toyota vehicles. Our specialists have regular training, as well as advanced resources and equipment, to make sure they can give you the best care for your Toyota car, truck, or SUV. Also, if you are ever in need of a replacement, we have genuine OEM parts too. We are ready to help at Heritage Toyota Owings Mills.