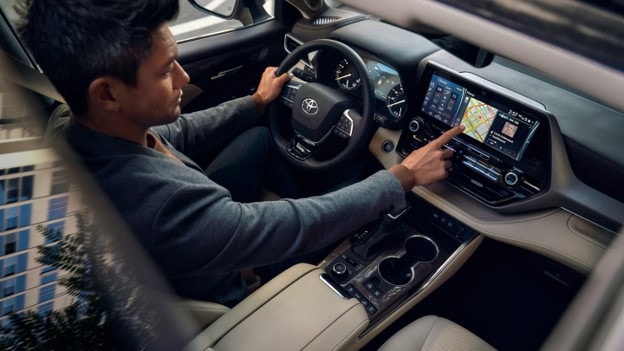 When you're searching for the right car for your family, there are lots of tough contenders. Even with so much competition, we're confident the 2020 Toyota Highlander is the best one for you and your family. After all, it's the "vehicle sure to excite any parent," and we've compared it with 2020 Ford Explorer so you can see just how true that really is.
The 2020 Toyota Highlander and the 2020 Ford Explorer are three-row midsize SUVs. They have both been revamped for the 2020 model year, making them sleeker than ever before and with even more advanced technology than they've ever seen.
Interior
Both vehicles provide comfortable space for you and your family. The Toyota Highlander, however, can provide seating for up to eight (with the option of seven), while the Ford Explorer only seats a maximum of seven passengers. In the middle row, the Toyota SUV's passengers enjoy 41 inches of legroom, whereas only 39 inches is available in the Ford Explorer SUV's second row. That way you know your passengers get extra space to stretch out on the longest trips in the 2020 Toyota Highlander.
Efficiency
You get impressive fuel economy in both SUVs as well. In fact, the both earn up to 29 mpg on the highway, which is ideal for those trips too. But, the truly premium efficiency comes in the Toyota Highlander Hybrid model. It gets up to 36 mpg in the city and 35 mpg on the highway. The Ford Explorer hybrid option doesn't come close with just 23 mpg city and 26 mpg highway.
Heritage Toyota Owings Mills
When you're ready to get into the perfect family-friendly vehicle, stop by our Toyota dealership in Owings Mills, MD. Trust us, the 2020 Toyota Highlander from our inventory of new Toyota vehicles for sale is certainly worth the hype.